Syngenta recognizes Greensboro area subcontractors, helping make new North American Crop Protection Headquarters a reality
GREENSBORO, N.C., USA, Mar. 10, 2022 ― Syngenta held a groundbreaking event yesterday for its new North American Crop Protection Headquarters, a major capital construction project at its current location in Greensboro. Syngenta leadership shared a preview with architectural renderings and noted innovative site features for those in attendance. State and local officials were on hand to discuss the significance of this long-term investment to the local community and economy.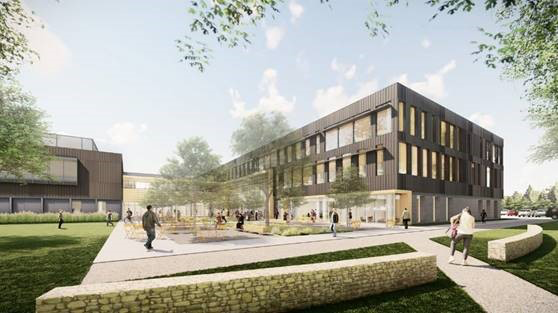 One of the objectives of the event was to recognize community leaders and subcontractors, essential to the success of the project. According to Vern Hawkins, president of Syngenta Crop Protection, the construction of a new headquarters in Greensboro is a true team effort.
"The Syngenta family has been part of the fabric of this community for many decades, and it's our goal to remain in Greensboro for many years to come," Hawkins said. "Our new headquarters will enable Greensboro-based colleagues to work together in modern, efficient facilities, enabling better collaboration and focus to meet our customers' needs."
Hawkins added that Syngenta would like to recognize the following subcontractors who will be helping bring the new Greensboro headquarters to life.
SPC Mechanical/Plumbing ― Winston-Salem
AAR Roofing ― Kernersville
DARI Demolition ― Greensboro
Lyndon Steel ― Winston-Salem
Binswanger Glazing and Storefront ― Greensboro
Sunland Fire Protection ― High Point
Triangle Grading and Paving ― Burlington
Cook & Boardman ― Winston-Salem
Shields Drywall ― Winston-Salem
McGee Brothers Masonry ― Greensboro
Bryant-Durham Electrical ― Durham
Advanced Exterior Systems ― Raleigh
IQ Contracting ― Raleigh
S&ME ― Greensboro
"For as long as I can remember, the Syngenta facility — once Ciba-Geigy — has stood at one of the main entrances to Greensboro, an important reminder of our community's agricultural science and technology abilities," said Greensboro Mayor, Nancy Vaughan. "We are thrilled that Syngenta has decided to build its new state-of-the-art office and research facility here — and that local employers are playing such an important role in its development."
Skip Alston, chairman of the Guilford County Board of Commissioners, added, "It's vital to keep jobs in the county, and the role played by these local businesses demonstrates the positive impact this project will have."
Brent Christensen, president and CEO of the Greensboro Chamber of Commerce, added, "We applaud Syngenta's decision to remain in our community, reaffirming the great business climate and talent found in the Greensboro, High Point and Guilford County area. And we are excited about the incredible positive impact this project will have throughout the region, something that is already being seen through the local businesses involved in its construction."
Syngenta intends to construct a more than 100,000 square-foot office building to connect with its existing laboratory facility on the north side of the 70-acre campus. Plans also include a complete renovation of all laboratories. The new workspaces will support about 650 employees and 100 contract workers. The entire project is expected to be completed in 2024.
The redeveloped headquarters site will include contemporary work and conference spaces; a health, wellness and fitness center; a cafeteria; an auditorium; coffee areas; and other amenities. In addition, a Customer Experience Center is planned to showcase the company's innovative approach in solving grower and broader agriculture industry challenges. Employee health, safety and work effectiveness will be key factors in the design and construction.
In addition to Hawkins and Vaughn, speakers at the groundbreaking event included J. Carlvena Foster, vice chairwoman of the Guildford County Board of Commissioners; Steve Troxler, commissioner of the North Carolina Department of Agriculture & Consumer Services; Mitch Peele, senior director of public policy at the North Carolina Farm Bureau Federation; and Brent Christensen, president and chief executive officer of the Greensboro Chamber of Commerce.
Syngenta's 70-acre Greensboro campus, now with 17 structures, was established in the mid-1960s and later acquired by Syngenta legacy company Ciba-Geigy.
Join the conversation online ― connect with Syngenta at Syngenta-us.com/social.
About Syngenta
Syngenta Crop Protection and Syngenta Seeds are part of Syngenta Group, one of the world's leading agriculture companies. Our ambition is to help safely feed the world while taking care of the planet. We aim to improve the sustainability, quality and safety of agriculture with world- class science and innovative crop solutions. Our technologies enable millions of farmers around the world to make better use of limited agricultural resources.
The content of this release is for information purposes only. This release is not, and should not be construed as, an offer to sell or issue or the solicitation of an offer to buy any securities or other property interests.
To learn more, visit www.syngenta.com and www.goodgrowthplan.com. Follow us on Twitter at www.twitter.com/Syngenta, www.twitter.com/SyngentaUS and on LinkedIn at www.linkedin.com/company/syngenta.
# # #
Media Contacts:
Chris Tutino
919-356-9163
chris.tutino@syngenta.com
Kennedy Fowler
919.886.5964
kfowler@gscommunications.com
Web Resources:
This document may contain forward-looking statements, which can be identified by terminology such as 'expect', 'would', 'will', 'potential', 'plans', 'prospects', 'estimated', 'aiming', 'on track' and similar expressions. Such statements may be subject to risks and uncertainties that could cause the actual results to differ materially from these statements. For Syngenta, such risks and uncertainties include risks relating to legal proceedings, regulatory approvals, new product development, increasing competition, customer credit risk, general economic and market conditions, compliance and remediation, intellectual property rights, implementation of organizational changes, impairment of intangible assets, consumer perceptions of genetically modified crops and organisms or crop protection chemicals, climatic variations, fluctuations in exchange rates and/or commodity prices, single source supply arrangements, political uncertainty, natural disasters, and breaches of data security or other disruptions of information technology. Syngenta assumes no obligation to update forward-looking statements to reflect actual results, changed assumptions or other factors.
©2022 Syngenta, 410 Swing Road, Greensboro, NC 27409. The Syngenta logo is a registered trademark of a Syngenta Group Company. All other trademarks are the property of their respective owners.
Platinum
Gold
Silver
CT Wilson Construction Co.